About Brevard COI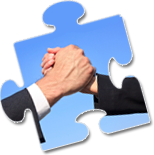 We meet, 2nd and 4th Thurs at 7:45A.M.at 203 Nieman Ave, Melbourne, FL, 32935
Brevard COI
brevardcoi.com
---
Group Created: 06/27/2011
Group Location: Melbourne, Florida USA
---
Meeting Time & Location
We are currently meeting on the 2nd and 4th Thursday of each month.
Time: 7:45-9:00 A.M.
please contact Terry Locke for location details.
We meet, 2nd and 4th Thurs at 7:45A.M.at 203 Nieman Ave, Melbourne, FL, 32935
Why Join Brevard COI
Center of Influence is a network of valued and respected local businesses in Brevard County, FL working together to grow our businesses and create a stronger community.
Industries We Are Looking For
IT, Photography, Physician, Chiropractor, Restaurant, Catering, Attorneys, Pharmacy, Home Improvemnet, Auto repair, Auto Body,etc...

If your industry is listed above please come as a guest to our next meeting. If you like what you see then fill out the "join this group" form.